Welcome to the First Church of Christ, Scientist in Los Altos! Since 1917 our church has been an active part of the Los Altos community.
Learning, living, loving …. Our focus is to support each other's spiritual growth to experience healing in the way Jesus taught and demonstrated. Everyone is welcome. Join us for a Sunday or Wednesday service. We look forward to meeting you!
---
NEVER ALONE How spiritual ideas work in us
Join us for a talk on Christian Science   Tuesday, May 4, at 7:30 pm
Click here to register in advance or join online
Click here for the complete invitation
If you'd like to join by phone, call
669.900.9128
ID: 838 5425 9941#
---
Welcome back to in-person services!
To attend, reservations are required. Please send an email to CSLosAltos@gmail.com. Include the name(s) of everyone from your household who will be attending and a phone number. You may also indicate your preference for seating (right/middle/left) as there will be assigned seating. Every attempt will be made to honor seating requirements.
Reservation email requests may be sent any time after the previous service and up to 3 hours before the service for which the reservation is being made. A confirmation email will be sent, which will include the State rules which govern gatherings.
Example 1: To attend a Sunday service, send an email anytime between 8:30 pm the prior Wednesday and 7 pm Saturday.
Example 2: To attend a Wednesday service, send an email anytime between 11:00 am the prior Sunday and 7 pm Tuesday.
We look forward to being together again!
Not ready to return yet? You may continue to call in by dialing (515) 603-3189 and then inputing code 138709#
Order of service on Sunday:

Hymn
Reading a Scriptural Selection
Silent prayer, followed by the audible repetition of the Lord's Prayer with its spiritual interpretation
Hymn
Announcing necessary notices
Solo
Reading of explanatory note
Announcing subject of Lesson-Sermon, and reading Golden Text and Responsive Reading
Reading the Lesson-Sermon
Collection
Hymn
Reading Scientific Statement of Being and correlative Scripture from I John
Announcing the Benediction

Hymns for Sunday, April 18: 151, 524, 577

Order of service on Wednesday:

Hymn
Reading from the Bible and Science and Health with Key to the Scriptures
Silent prayer, followed by the audible repetition of the Lord's Prayer
Hymn
Announcing necessary notices
Experiences, testimonies, and remarks on Christian Science
Hymn

Hymns for Wednesday, April 14:  67, 77, 115

Title: "The Christ-consciousness is law to aggressive mental suggestion"  
Please contact the Clerk for information about online Sunday School classes.
Our Reading Room is open Thursdays, 10 am – 1 pm.
---
Click here for our Reading Room page.
A new feature on our website is a direct link to Sentinel Watch. Just click on that tab in the menu and enjoy wonderful inspiration!
---
A NEW LOOK FOR OUR SUNDAY SCHOOL
We recently completed new landscaping in front of our Sunday School entrance. Everyone is welcome to enjoy this relaxing space.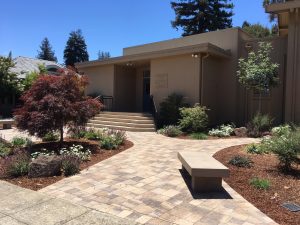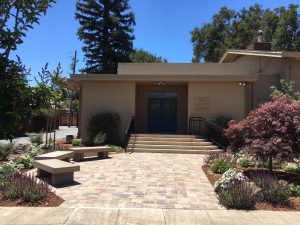 Come see our redecorated interior…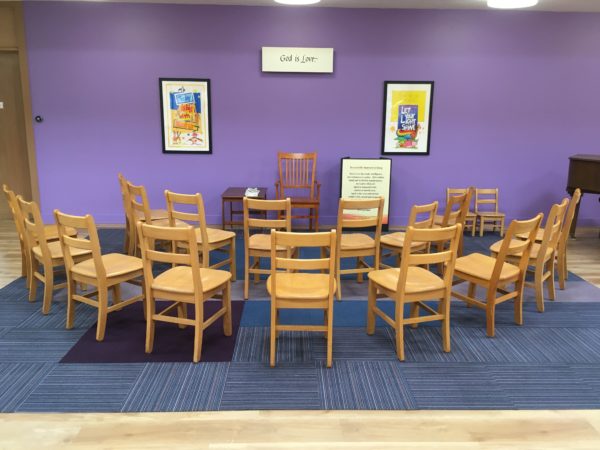 This central space is where all students and staff meet for opening and closing exercises. Click here to learn more about our Sunday School and the lessons taught.
---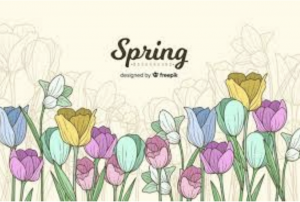 Join us for our Spring potluck lunch in our newly redecorated Sunday School room
Click here for the flyer with more details
An RSVP to the Clerk at will be appreciated by the setup committee.
---
First Church of Christ, Scientist
401 University Avenue Los Altos, CA 94022 (650) 948-3602 Call in to services: 515-603-3189, access code 138709#
info@christiansciencelosaltos.org
  Christian Science Reading Room 60 Main Street Los Altos, CA  94022 (650) 948-4541
CSLosAltosRR@gmail.com